Talking to Brick Walls
Learn How to Communicate with Your Teenager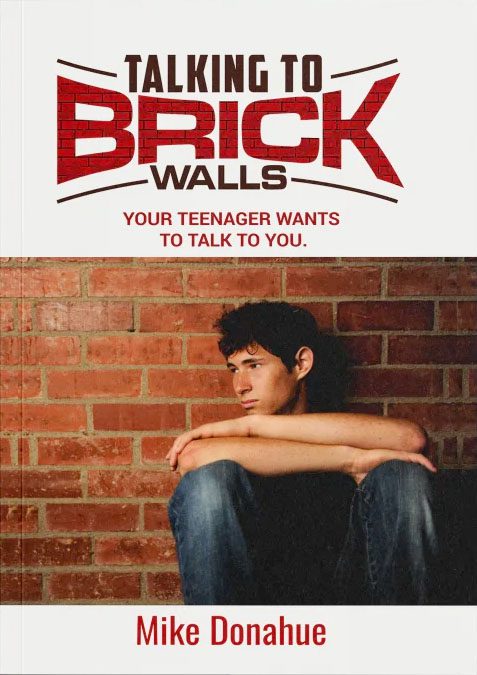 Talking to Brick Walls by Mike Donahue
The common thought is that when a child turns thirteen, they stop wanting to talk to their parents about their personal lives. Nothing could be further from the truth.
Most teenagers feel like they must stop talking to their parents because the information has changed drastically. Eight-year-olds have no problem conversing with their parents because the conversation for the most part will be harmless and innocent. Now add a teenager's social world with all its pressure and chaos and the conversations have a lot more layers to them.
Talking to Brick Walls will show you that instead of trying to change the way your teenager talks to you; you should change the way you hear what your teenager is trying to say to you.
"Talking to Brick Walls is the best book I have ever read on learning to listen and respond to your child as a parent, or your student as a teacher…This book is a game changer and a must read for every teacher and every parent with children who are still attending school."
Endorsements
What are people saying about Talking to Brick Walls by Mike Donahue?
"There is a vast difference between a scholastic researcher and an experienced practitioner. Would you want to be operated on by a surgeon who has studied your condition thoroughly but never performed a surgery before? Or would you want to put your body in the hands of a skilled surgeon who has successfully completed over 300 procedures like yours? While both are extremely important—experience trumps research every time.
You can study bananas for 50 years and know everything about their seeds, their color, their growth patterns, and their culture, but if you have never tasted a banana, you don't know bananas!
Mike Donahue is an experienced practitioner who has also thoroughly fulfilled his research. With over 20 years of constant exposure to young people in school assemblies and trainings, he has provided a listening ear to thousands of students who have shared things with him that they have never shared with their closest friends or family.
Talking to Brick Walls, is the best book I have ever read on learning to listen and respond to your child as a parent, or your student as a teacher. With uncompromising, "no holds barred" honesty, Mike addresses the issues head-on, with experienced counsel and wisdom.
My connection with Mike goes back to the Columbine tragedy where I lost my daughter, Rachel. She attended a youth group that Mike had started and wrote about its impact in her diaries.
This book is a game changer and a must read for every teacher and every parent with children who are still attending school."
"In the field of public education, understanding and communicating with teenagers is a daunting task. As a high school principal in Middletown, Pennsylvania, my staff and I were routinely challenged with student-to-student conflicts and student-to-adult issues. Like many adults, we often found ourselves misunderstanding our students, misdiagnosing problems, and talking to our students over and over about the same things. Frequently, our efforts seemed to accomplish little—if anything at all.
A colleague of mine suggested we bring Mike Donahue and Value Up into our school. I was skeptical at first, only because motivational speakers are usually a one-hit-wonder who rarely share anything sustainable as it relates to making a lasting difference in the lives of students. I was blown away by the instant rapport he had with even our toughest-to-reach students. The next few years we brought Mike in regularly to work with students, parents, and staff. His expertise and insight in creating and maintaining a healthy social climate, quite literally changed our school and community.
Talking to Brick Walls is an outstanding, practical book written from the trenches of where students really live. He understands it, he gets it, and he lays it out in a way that makes a lot of sense. I am sure you will find Talking to Brick Walls informative, practical, and beneficial if you are in a position where you need to connect with teenagers."
"While I was the United States Congressman for the 3rd district in Nebraska, I partnered with Mike Donahue and his organization to help us connect and educate Nebraskan highschoolers on the dangers of drug use. Mike's insight and expertise at knowing what the root issues were with teenagers, was instrumental in our success in stemming the tide of methamphetamine use in our State. Whatever Mike Donahue writes about connecting to teenagers will be worth reading."
"During my 30 years as an educator, I have had the pleasure of working with some of education's brightest minds, and Mike Donahue ranks as one of the very best youth communicators I have ever encountered. Mike has a deep, professional expertise in the area of understanding how students are feeling and interacting with their world. Talking to Brick Walls will give you valuable information that can literally change the way you interact with your child."
"I met Mike Donahue after my daughter, Brooke Harrison, endured a horribly tragic school shooting at Marjory Stoneman Douglas High School in Parkland, Florida where 17 students and staff were killed. Brooke was in the room where many were injured, and three students were killed. We partnered with Mike to speak at a few high school assemblies in Colorado when Brooke was fifteen years old. I will be forever grateful for the compassion, insight, and wisdom that Mike shared with my daughter and our family as we were navigating through very difficult times after the tragedy. Mike came and presented his Value Up program in Parkland to 1800 students eight months after the shooting. At those assemblies, I was able to see firsthand how he interacts with teenagers. He has a very authentic way of communicating with young people that grabs their attention, gets them to listen, encourages them to talk openly, and gets them to think about their lives and relationships.
Talking to Brick Walls is an excellent book that contains 35 years of experience and expertise condensed into an easy-to-read user manual for parents and educators. After reading the book, I came away with a greater understanding that teenagers have multiple personas: the one we see at home, the one they have at school, and the one they reveal on social media. Young people are under tremendous social pressure and scrutiny today, and it is harder than ever to truly understand the struggles they are facing. I highly recommend Talking to Brick Walls because it is an instruction manual with practical advice, and conversation starters that will change the way you communicate with your teenagers."
"Mike Donahue is one of those rare individuals that is just as comfortable sitting down with the Governor of Iowa as he is with a rebellious fifteen-year-old. I have known Mike for over thirty years as his friend and executive advisor, and it is not an accident that schools and other organizations have brought him in to address sensitive and difficult situations. Whether it's school shootings, suicide contagion issues, excessive bullying, and hazing incidents—Mike has a knack for being able to read the situation and apply wisdom and expertise to help bring stability and restoration to that organization.
Mike spoke alongside Roger Goodell, the commissioner of the NFL, and Arne Duncan, the Secretary of Education under President Barack Obama at the National PTA Conference on bullying and social profiling in 2014. He has worked with several governors and state politicians when called upon, to help with a school related crisis. He has developed relationships with some of the key players in social climate solutions in public schools across the country. He is an expert on knowing and connecting to young people at a level that I have rarely seen.
Talking to Brick Walls is the accumulation of years of knowledge and insight taken from the front lines of the teenage world. Mike spells out very clearly that you cannot put on the lenses of your own teenager experience and go into 'autopilot' when dealing with this generation of teenagers. I highly recommend reading and absorbing the pages of this book."
"There is a big difference between listening to a speaker at a school and living with that person. Fortunately, I have had the privilege of experiencing both with Mike Donahue. He married my mom when I was in 7th grade and moved in with us shortly after that. Mike also spoke at my high school when I was a sophomore at Lewis Palmer High School in Colorado.
I am now a sophomore in college and Mike asked me to read Talking to Brick Walls. When I got to the chapter, "Their Privilege of Process," I immediately thought back to times when I needed to be honest with Mike and my mom about things that I was struggling with as a teenager. No one is perfect, but these insights that Mike gives are more than just words on a page. They listened to me and were willing to hear some honest and sensitive information. I never felt like they were judging me as a person. I am grateful that Mike is not just an amazing speaker, but he lives what he talks about in schools. You will love this book."